My name is Leena Jaakola (ESR 11). I am half Finnish half American and recently began as ESR11 with FutureArctic at Copenhagen University.  My education began with Civil Engineering degree from the University of Minnesota, where I developed a keen interest in surface water and moved on to work as a water resources engineer. Later I recieved a double Master degree in engineering geology and cold cimate engineering from the Technical University of Denmark and Norwegian University of Science and Technology. During my studies I lived in both Greenland and Svalbard, where my passion changed from water to ice and I gained a new level of appreciation for the unsympathetic beauty and vulnerability of the Arctic.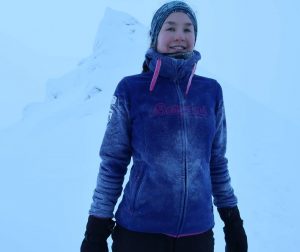 My role in this project includes developing an automated sampler for subsoil nutrient flows. I am responsible for developing and validating an instrument capable of automatically sampling various soil hydrological parameters using a porous steel soil water sampler from PRENART equipped with sensors from partners at Dansk Miljørådgivning. I plan to ultimately calibrate a hydrological model which can predict nutrient leaching rates along the temperature gradients measured at ForHot.
Outside of work you will find me mountain biking, bird watching, and cross country skiing.
I look forward to creating a strong network with everyone involved in FutureArctic, and working together to establish a more holistic image of our future ecosystems.